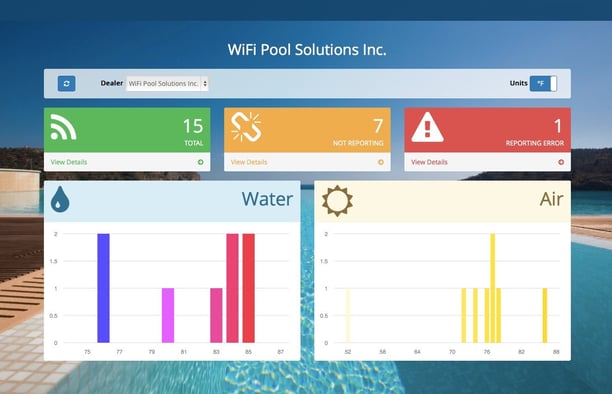 Last year, we launched the HeaterReader™ at the International Pool | Spa | Patio Expo in Las Vegas and received tons of great feedback. Industry professionals were captivated by HeaterReader's™ real-time notifications that inform homeowners when their heater and pump are working and when they aren't. The result of which, gives homeowners the ability to fix a problem before it becomes a major cost and inconvenience.
Another feature that caught the audience's attention was the HeaterReader's™ ability to calculate energy costs, using proprietary software. This feature allows pool owners to monitor their spending so that they can adjust their usage and save more money. And, even if cost is not an issue, the Cost Analysis Tool helps homeowners maintain peace of mind, knowing that they are in control of their energy consumption.
Best of all, attendees were surprised that such a light-weight, compact device could do so much!
In fact, the feedback was so positive that we decided head back to the Expo but, this time we are bringing you more!
This year, we are bringing the optional HeaterReader™ Control Centre – and we couldn't be more excited!
The HeaterReader™ Control Centre is a multi-pool management software, specifically designed with pool dealers and property managers in mind.
With the HeaterReader™ Control Centre, you will be able to monitor and manage multiple clients' pools using one easy-to-use interface. You will be able to monitor temperatures, view the current operating status of each system and ensure the systems are operating!
And, you can also choose to be updated with instant notifications, so that you'll know something went wrong the moment it happens.
That means no more weekend chaos! You can forget about all those last-minute phone calls from clients who just dipped their toes in the pool only to realize that the heater malfunctioned early that week. Instead, you will receive an alert as soon as something goes wrong, allowing you to get ahead of the issue.
Not only will this give you the opportunity to provide superior customer service, it will help you save time and money.
So stand out from your competition and start offering your customers top-notch pool management services with the HeaterReader™ Control Centre!
Check it out November 2nd to 4th at the International Pool | Spa | Patio Expo being held in New Orleans at the Ernest N. Morial Convention Centre!
We will be at Booth 1169 from 10:00 am to 5:00 pm Wednesday and Thursday as well as 10:00 am to 2:00 pm on Friday!
We can't wait to see you there!