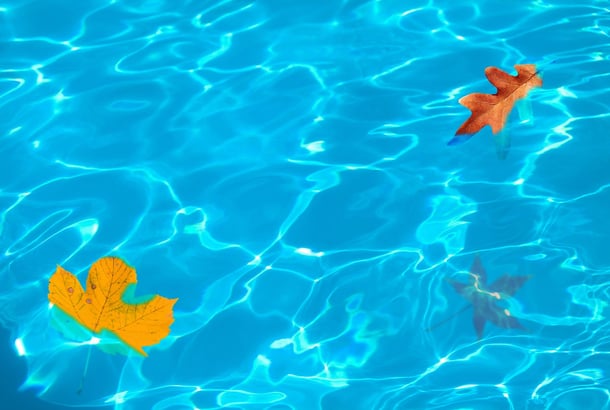 As the temperatures drop it is important to make some changes to the way you maintain your pool.
Looking after your pool in the fall allows means less work in the spring to get the pool ready for use. Here are some tips for your offseason swimming pool care.
Remove debris and leaves
Making sure you regularly skim leaves and other debris is important all year round, but in the colder temperatures of fall, with the amount of leaf debris in the air, it is key. Not skimming your pool can lead to a murky and even a green pool, due to increased bacteria and algae in the water. Built up leaves on the bottom of your pool stains the bottom and sides of your pool and attracts algae growth.
Track the Weather
As the seasons change, it's more important to keep an eye on the weather. With the increased rainfall that fall tends to bring, the chemicals in your pool may get quite diluted, therefore adding additional chemicals will keep algae at bay and the water clean.
Adjust the Pump
The decreasing temperature affects the duration you need to run the pump for your pool. A common rule to adhere to is run your pump for 1 hour for each 10 degree (F) the outside temperature is. For example a 80 f day you'd aim to run the pump for 8 hours.
Take care of Repairs
When you're using your pool, it's hard to get any maintenance work done. You don't want to shut it down and lose any precious days. With the reduced use of your pool in the fall and winter months, now is a great time to repair anything that arose over the summer, this will reduce downtime in the peak months.
Consider a Shock
With all the variables affecting your pool in the warmer months it is normally recommended to give your pool a shock and start with a clean slate. Shocking is when a higher concentrate of chemicals are used to speed up or 'shock' the cleaning process. This is especially useful to pools that are prone to low levels of chlorine, cloudy water or algae.
---
Ready to find out more about pool automation and how we can help you manage and control your pools cost and heating?