Effectively Manage Multiple Pools, Across Your Resort, With HeaterReader™
Your guests look forward to spending time by the pool when they are on vacation and jumping into a cold or unfiltered pool is a definite way to spoil that experience.
And while we know you do everything you can to ensure that your pools are operating properly, there are often surprises that you have little control over, without having someone monitoring the equipment 24/7.
We are here to fix that!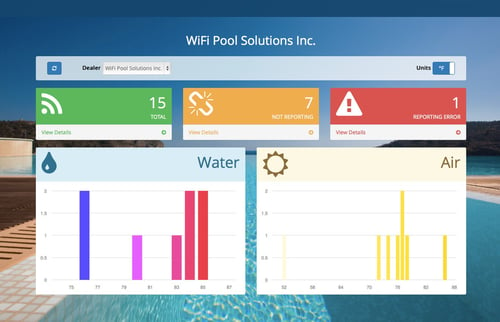 With the HeaterReader™ and HeaterReader™ Control Centre you can monitor and manage multiple pools' heaters and pumps, from one easy to use interface. Whether the pools are inside or out, you will be able to monitor temperatures, manage schedules and ensure your equipment is operating, keeping your pool clear and refreshing.
In addition, if something does go wrong with the heater or pump, you will be notified instantly, allowing you to resolve the issue before it has a chance to affect your guests.
You depend on your pools to work properly so that your guests can enjoy the time they spend by the pool side, and we want to help make that experience perfect!
Features
Custom Schedules Set up to 12 schedules, for each system, to reduce your energy consumption and save money!
Notifications Know what is happening, as it happens, from heater start up to heater failure. No more surprises!
Easy Install The HeaterReader™ easily connects to any swimming pool heater and pump. Plus there's no reason to tear up landscaping to run new electrical.
Cost Analysis Our App tells you how much it is costing you to operate your heater so you can adjust your schedules and save more!
Retrofits to Any Pool The HeaterReader is designed for the retrofit pool market and can be easily installed on any indoor or outdoor pool heater and pump system.
Anywhere Access Manage one or more HeaterReader's™ from anywhere in the world using our HeaterReader™ SMART mobile app or HeaterReader™ Control Centre!
Low Maintenance The HeaterReader™ is virtually maintenance free once installed.
Learn More About HeaterReader™